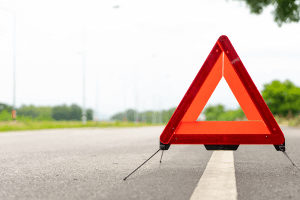 When vehicles break down, it creates a hazard for other drivers and puts the occupants in the broken-down vehicle at risk. So, when there is an accident, who may be held liable for injuries and other damages?
Our South Bend car accident lawyers are prepared to help you determine who is at fault for the accident and help you seek compensation from the insurance company. We do not charge you anything up front or while we work on your case, so there is no risk to you.
When is the Driver of the Disabled Vehicle Liable?
Drivers have a responsibility to maintain their vehicles in proper working order to reduce their risk of a crash and avoid putting other drivers in danger. If a driver knowingly drives a vehicle that is prone to breaking down and an accident occurs, the driver of that vehicle may be held liable for any injuries or damage to property caused by the collision.
On the other hand, there are some scenarios that may be out of a driver's control, such as a flat tire. Drivers should have their tires and tire pressure checked regularly, but a nail or other road debris could cause a flat tire and that is out of the driver's control.
However, drivers still have a responsibility to other drivers and pedestrians to act in a reasonable manner to help keep others safe. This means that the driver of the vehicle should:
Pull completely off to the side of the road
Turn on the vehicle's hazard lights or use flares to indicate an emergency
Call for roadside assistance or the police
Stay with the vehicle, if possible, until help arrives
Failing to take steps like these could make it harder for other drivers to avoid hitting your car. If a driver's car breaks down because of a flat tire or for another reason, and he or she does not take reasonable steps to get out of the way of other vehicles, he or she could be liable if there is a crash.
When Might Passing Drivers be Liable?
Drivers also have a responsibility to take reasonable care when approaching and passing broken-down vehicles. A driver may be held liable for an accident with a disabled vehicle on the shoulder if he or she was driving recklessly, such as texting and driving or driving under the influence of drugs or alcohol.
Do Indiana's Move Over Laws Apply?
When drivers see flashing emergency lights, state law requires them to reduce their speed and put as much distance as possible between them and the emergency lights. For multi-lane highways, drivers are required to change lanes to maximize the distance, but if changing lanes is not possible, drivers must reduce their speed by at least 10 mph under the posted speed limit.
Emergency vehicles include:
Police cars
Ambulances
Utility service vehicles
Garbage trucks
Fire trucks
Highway maintenance vehicles
While Indiana's Move Over law applies to emergency vehicles, the Indiana Department of Transportation encourages drivers to be courteous to all vehicles on the shoulder, including vehicles that are broken down on the side of the road.
Compensation and Comparative Negligence in Indiana
Recovering compensation for an accident involving a disabled vehicle may be more complex if there were multiple parties, including you, at fault for the accident.
Indiana's comparative negligence law says your compensation award may be reduced by your percentage of fault for the crash. If you were the driver of the disabled vehicle who failed to pull completely onto the shoulder of the roadway and someone crashed into you, you could be held partially at fault for not properly getting your vehicle off the road. However, the driver who crashed into you may be mostly to blame if he or she was not paying attention and veered into your vehicle.
Call Us Today for a Free Consultation
Whether you are blameless in the accident or share partial fault for a disabled vehicle crash, our attorneys are prepared to help you take on the insurance company to recover the compensation you need for medical bills, lost wages, pain and suffering and more.
Our attorneys work on a contingency fee basis, meaning that you do not pay us anything unless we recover compensation on your behalf.
No fees. No risks. Call today: (844) 678-1800